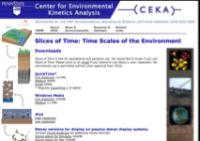 When last checked this resource was offline Our automated link checker has alerted the folks responsible for the part of our site where this problematic link is referenced. If you have further information about the link (e.g. a new location where the information can be found) please let us know.

You may be able to find previous versions at the Internet Archive.
This video examines environmental processes across a range of temporal and spatial scales to portray activities taking place in scales ranging from subatomic particles to continents. The video uses a series of clocks to illustrate environmental processes that operate on attoseconds to hundreds of millions of years. The processes described are all relevant to the problem of acid mine drainage associated with coal mining. The video is available for a free download in a variety of resolutions and formats, including 3D stereo, QuickTime and Ipod.
This description of a site outside SERC has not been vetted by SERC staff and may be incomplete or incorrect. If you have information we can use to flesh out or correct this record let us know.
This resource is referenced here:
Subject
:
Geoscience:Geology:
Geochemistry,
Environmental Science:
Water Quality and Quantity,
Mineral Resources:
Mining,
Environmental Science:Energy:
Fossil Fuels
Resource Type
:
Audio/Visual:
Animations/Video
Keywords:
geologic time, AMD, pyrite