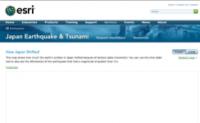 When last checked this resource was offline Our automated link checker has alerted the folks responsible for the part of our site where this problematic link is referenced. If you have further information about the link (e.g. a new location where the information can be found) please let us know.

You may be able to find previous versions at the Internet Archive.
This map, from ESRI, shows how much the earth's surface in Japan shifted because of tectonic plate movement following the March 2011 earthquake. Viewers can use the time slider tool to also see the aftershocks of the earthquake that had a magnitude of greater than 5.0.
This description of a site outside SERC has not been vetted by SERC staff and may be incomplete or incorrect. If you have information we can use to flesh out or correct this record let us know.
This resource is referenced here:
Subject
:
Environmental Science:Natural Hazards:
Earthquakes,
Geoscience:Geology:Structural Geology:
Regional Structural/Tectonic Activity,
Geoscience:Geology:Geophysics:
Seismology,
Geoscience:Geology:
Tectonics
Resource Type
:
Audio/Visual:
Maps, Animations/Video
Special Interest
: Hazards